At Tri-State Veterinary Clinic, we are very proud to have a talented team of animal lovers and caregivers. We have many years of combined animal care experience and want only the best for your extended family! Take a moment to meet the friendly faces you will see here at the clinic:
---
Winthrop F. Barnard, DVM – "Gregg"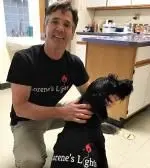 Dr. Barnard is a 1981 graduate of the Purdue University School of Veterinary Medicine. He spent 2 years in Wisconsin at mixed animal practices and spent 1 1/2 years in a post doctorate internship in Equine Medicine/Reproductive/Surgery at Rochester Equine Clinic in Rochester New Hampshire.
He has spent over 30 years at Tri-State Veterinary Clinic.
He spends his free time with his family and enjoys climbing and hiking.

---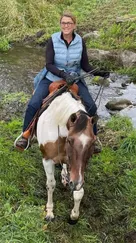 Ann Barnard, RVT
Ann is the wife of Dr. Barnard. She is a 1979 graduate from Purdue with a degree in Veterinary Technology. She spent 1 year at Terry Animal Hospital in Wilmette, IL, 2 years as a hospital & medical lab tech, and 1 year at Rochester Equine Clinic.
She has been at Tri- State Veterinary Clinic with Dr. Barnard for over 30 years.

---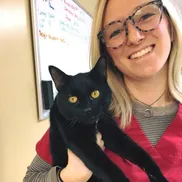 Sarah Smith - Registered Veterinary Technician

Sarah is a 2015 graduate from the Brown Mackie Veterinary Technology program. She has been with us since doing her externship. She enjoys the everyday tasks of patient care and client education.

She has always lived locally and graduated from Central Noble.

She has three cats; Lydia, Margot, and Sarah. In her spare time, Sarah enjoys doing outdoor activities with her family.
---
Trisha Hall - Registered Veterinary Technician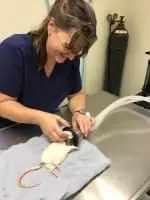 Trisha graduated from Columbus State Community College in 2000 with a degree in Veterinary Technology. She spent time working and completing her externship at The Ohio State Veterinary Teaching Hospital.
Her career began in the Summer of 1995, when her first job was at her Uncle's veterinary clinic. She has been in the veterinary industry for 23 years.
Her special interests are anesthesia and surgery, but loves everything animals and medicine.
She shares her home with three cats that are full of energy.

---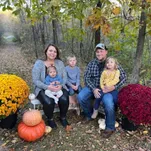 Alyssa Manth - Veterinary Assistant
Alyssa graduated from Brown Mackie College in 2013 where she completed their Veterinary Technology program. She completed her externship at Tri-State and has worked with other veterinary clinics gaining knowledge and experience. She returned to Tri-State in 2019 and has become a great addition to our veterinary care team.

---
Dr. Sheila Dick
Dr. Dick, a graduate of Purdue University has worked at Tri-State part time and as needed when Dr. Barnard is away for the past 15 years.
---
Dr. Lauren Kruse
Dr. Kruse is a Purdue University graduate and works at Tri-State to cover when Dr. Barnard is unavailable.
---